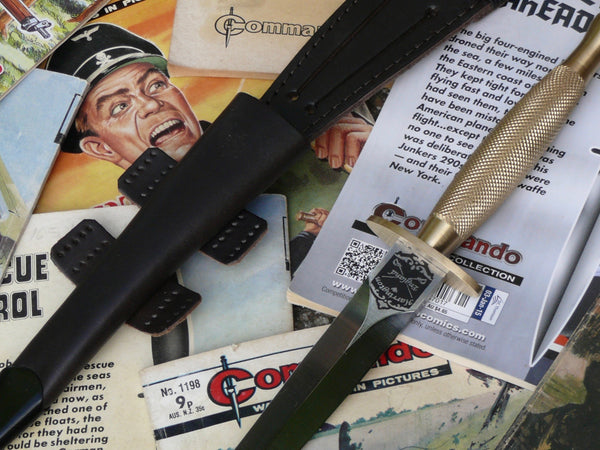 Bison Bushcraft
1st Pattern F-S Commando Knife SOLD OUT, See below for update
Like most young boys in the 60s and 70s I was exposed to much talk from relatives of WW2. It was still fresh and played a huge part in their lives. So it comes as no surprise that I avidly anticipated the weekly War picture library or "Commando" comic that came my way. The stories and graphics were so vivid but what captivated me was the image on the back cover of a Fairbairn Sykes Commando knife. It's graceful lines and perfect proportions made me long for one and pester my parents for one from the outset. They were never forthcoming ( Why not? I felt responsible enough at 7 years old) so I tried making various versions to some successful outcomes over my school years. Although my secondary school and metalwork teachers didn't seem to share my obsession. I'm sure this can be viewed as the roots of my knife making career.
Jumping forward to 2005. The Wilkinson Sword factory in London who were the original makers of the Commando Knife was closing down. By then, as a professional knife maker for some years, I managed to visit and successfully bid on some stock and machinery in their disposal sale. Amongst this stock were some sword blades and a whole box of Fairbairn Sykes Blades. Heaven for me as you can imagine. All the different variants were in the box and were of various ages and conditions.
Fifteen years forward in 2020 and lockdown has given me the chance to make a proper go of achieving my childhood dream and making real Commando knives.
So what we have here are blades made by Wilkinson Sword. These appear to be well made representations of the first pattern, however I believe they were made in the later part of the twentieth century and not wartime. They are carbon steel and although I have cleaned them up they do show slight marks on the blades commensurate with age and long term storage. I have etched them with a similar crest to Wilkinson Sword but altered it to include my name to prevent any thoughts of fakery or mis-representation. The reverse side carries the F-S fighting knife shield. I have made knurled first pattern brass handles with matching guards and top nuts and fitted them. Each knife is supplied in a brown veg tanned belt/leg scabbard as per the originals with a later elastic retaining strap. I will also include a certificate of provenance with each blade.
So I have finally achieved a childhood ambition and am surrounded by Commando knives!
NOTE: I am still working on these, but other things in both work and life have had to take precedence. I expect to have some more ready later this year. Please note, I am not taking names or a waiting list for these.
NB. These Knives are sold as collectors items. You will be asked to supply proof of age on ordering.